A few words from our wonderful clients!
Our log home turned out better than my wife or I could ever have imagined. The entire process from selecting a standard plan, to making modifications, deciding on the various options and selecting a builder was easy and enjoyable. The design service staff helped us to create our ideal home. Moosehead Cedar Log homes provided a superior kit which the builder crafted into an exceptional building. Early in the summer we moved into our beautiful log home.
John and Meredith Limmer—New Jersey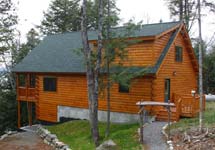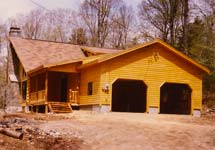 I want to take this opportunity to send our sincerest gratitude and praise to you and your staff for helping to make our dream come true. With our Moosehead Cedar Log Home we are right on budget. During these past nine months we have also realized the quality of the MCLH product. Other friends have just completed construction of a log home a few miles away from us. When we visited them, the differences in our two homes were remarkable. From the careful milling of the cedar logs to the name brand of the windows and doors, we believe that Moosehead Cedar Log Homes makes a statement at the high end of the market even for those who are budget minded.
John and Marg Nicols—Vermont
D and I love our house and we show it to everyone—we are very proud of our Moosehead Cedar Log Home. Thank you so much for all your help. It has been a pleasure working with you.
P.S. Thanks for helping make our dream come true!
John & D Westmoreland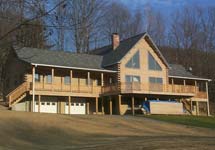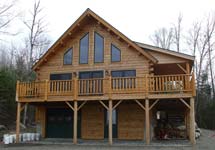 The home we chose was basic, serviceable and top quality. The sales staff and owners assisted us happily as we extended the front dimensions of the home out several feet and included windows where there were none. We also made several other changes to the plan that required design and drafting time…and they were done at no cost to us. The home was delivered on schedule and MCLH actually took pictures of our home at the mill as the pieces were cut. During construction, they were on site when necessary and everything went up flawlessly. As we describe our home to friends and people we do not know, "top quality" is the word we use. We also couldn't have worked with a nicer group of people than the staff at MCLH – they are honest, extremely helpful, and good people to do business with.
Larry and Erica Brouillet—Massachusetts
My wife and I chose the log home style for its appearance and setting on the lake, its homey atmosphere is perfect for our evergrowing family. Our Moosehead Cedar Log Home representative worked with our architect and builder in making sure that all went well durring the building process. It was all worth it. We love our home.
Adrien and Celine Brochu—Maine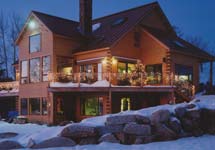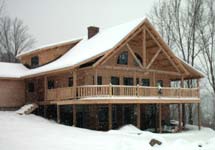 I built my first log home in 1974 I did so from the "woods". I cut the trees, peeled them and had them slabbed to give me a 6" high log cabin log, then proceeded to erect my log cabin. After that experience,  I was contacted to build log homes for various customers in the mountains of Vermont, Massachusetts, New Hampshire and Maine. I went from the "woods" to the manufactured kits throughout this time.
As a preferred builder for 4 to 5 log home companies during the 80's I was able to evaluate log home materials packages with an eye to cost, quality, and amounts of materials sent. So, when I decided to build a log office I already new which company I would partner with. Moosehead Cedar Log Homes became my company of choice. I built my office, (to house my dealership) then a few years later a new home and just recently a new camp in the middle of the National forest.
Throughout this time Moosehead has maintained its commitment to quality, cost effectiveness and customer satisfaction.
Skip Holton—Vermont
We have been delighted with our Moosehead Cedar Log Home for five years now. It has withstood the test of time with nothing but good news. Our pleasurable experience started with the delivery of the kit, carefully bundled, delivered on time, and easy to handle. The Olylog screws surpassed tradition nails and screws for smooth assembly. The instructions from the manual were very helpful. Overall it was an easy build. Since that time, our best surprise has been the efficient ability to heat. We have a 30×40 single floor home with a Vermont wood stove and a back up of an oil furnace. In 4 years, we have used 5/8 of a tank of oil. Our winter days and nights are warm, or summer days are cool. We open the windows in the warmnights for an enjoyable breeze. We attribute our comfortable living to Moosehead's product and service. Every visitor in our home has lavished it with compliments. It is always with pride that we speak about our cedar log home.
Jim and JoAnne Brown—New Hampshire
After a few ventures in seeking qualified information concerning the construction and values of a log home, we finally cameto the right place. It is without question that the product of Moosehead Cedar Log Homes will satisfy us completely. We both thank you so much for your valued time and your most comfortable approach in helping us find the way with our project.
Lou Angenola and Joyce Horner—Massachusetts