Sales

We are an Authorized Dealer for Moosehead Cedar Log Homes with a model home/sales office in Southern Vermont. For over 30 years, Moosehead Cedar Log Homes has been crafting log homes that embody the love and tradition of this timeless lifestyle. Distinctive homes require vision and expertise, Your vision and Our expertise. Whether you're dreaming of a getaway cottage, family residence, or luxury retreat, our experienced team of professionals can make your dream an affordable reality.
Our master designers and artisans are experienced in various building methods which include traditional prairie style log and purlin systems to time saving pre-manufactured trusses. We believe that building a log home is not a process, but a partnership. It's our job to help you shape your ideas into reality. Great Homes begin with great designs. Moosehead Cedar Log Homes offers the largest selection of home plans that fit any lifestyle or budget.
With over 25 years of experience, we have built a solid reputation of supplying one of the best log home kits on the market today. Most customers will find a stock floor plan from our collection, or one that is similar to what they are looking for. This is when our in-house design service team steps in. They can help you modify or customize any floor plan so that it truly becomes your family's dream home. Or, if you already have a design in mind, bring it in, and see our team bring it to life.
Construction
We have been building custom and kit log homes since 1974 and continue to be the primary log home builder for Moosehead Cedar Log Homes in Vermont and New England. With over 30 years experience in log home construction, we have extensive knowledge of log home design and construction techniques. We are available to help in all phases of construction from site selection and evaluation, through the design phases, to shell and complete "turn-key" construction of you log home. Contact us for rates and availability.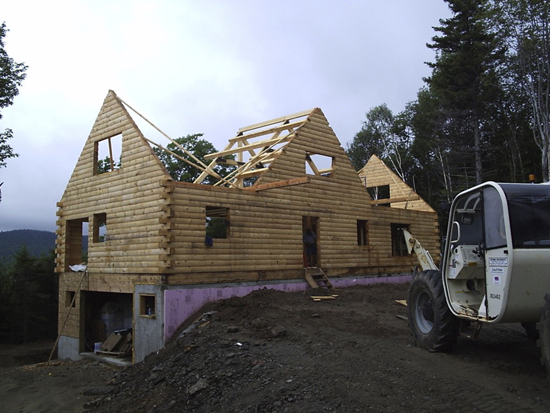 Repair & Restoration
As an added service, we provide full service log home restoration and repair services including rot repair, media blasting, caulking and chinking, and refinishing.